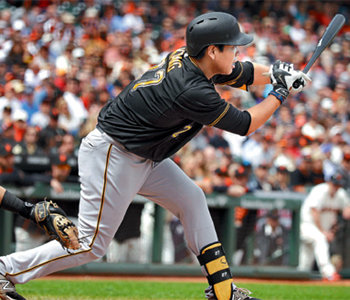 Manager Clint Hurdle of the Pittsburgh Pirates said ahead of his team`s away game with the San Diego Padres on May 29 that Kang Jung-ho was sufficiently competent and would be the fifth batter in the lineup for the time being. However, Kang fell into a "mini" slump at an away game in National League West and the Pirates decided to with shortstop Jordy Mercer over Kang.
Kang also failed to be selected for the starting lineup on Wednesday at away game in San Francisco. Making his second straight start at shortstop, Mercer hit a home run at the fifth inning to break a 1-1 tie. Kang had to see in the dugout his shortstop rival hit home run for the second straight game.
Kang had a chance at the ninth inning, however. While his team was ahead 3-1 with runners at second and third bases with a one out, Hurdle sent out Kang to replace Jared Hughes. Kang then made a hit off San Francisco Giants closer Sergio Romo`s slider for a two-run double, allowing the Pirates seize victory. Kang, who had been sluggish through the seven games in National League West with just two hits in 16 at-bats (batting average 0.125), drove five runs this day, hugely contributing to the team.
Meanwhile, Choo Shin-soo of the Texas Rangers, at a home game against the Chicago White Sox the same day, recorded one hit in two at-bats and two four balls. In the third inning, Choo once sparked off with White Sox starting pitcher Chris Sale when he threw toward Choo`s body. Texas lost 0-2.
moonsy1028@gmail.com