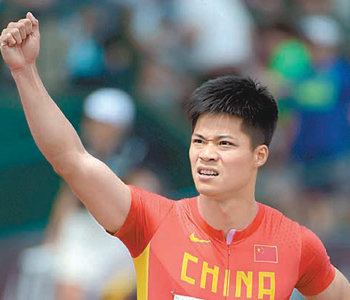 China's Su Bingtian (aged 26) has become the first Asian-born field and track athlete to run a sub-10-second 100 meter run.
At the male's 100 meters discipline of the International Association of Athletics Federations' Diamond League-Prefontaine Classic held at Hayward Field in Oregon, the U.S. on Sunday, Su Bingtian clocked 9.99 seconds in the race, coming to the 3rd place. American Tyson Gay in 9.88 was the winner of the race.
Su's time of 9.99 is the fastest record set by an Asian runner. Although Samuel Francis (Qatar, 9.99 seconds) in 2007 and Femi Ogunode (Qatar, 9.93 seconds) at the 2014 Asian Games Incheon finished 100 meters within 10 seconds with Asian nationalities, the two were originally Nigerians.
Before Su Bingtian, the fastest record set by Asian runners was 10 seconds by Zhang Peimeng (China) and Koji Ito (Japan). Although Japan's Yoshihide Kiryu clocked 9.87 in March, his time was not accepted as an official record since he ran with 3.3 m/s wind on the back. In sprinter event, record set with the wind speed of 2.0 m/s or slower is recognized as an official record. Korea's best time is 10.23 seconds set by Kim Kook-yeong in 2010.
Su Bingtian is a promising sprinter in China. Since 2006 when he finished 100 meters at 10.59, he has continuously shortened his time. He clocked 10.06 in 2013 and won a silver medal with 10.10 in the 2014 Asian Games Incheon. "I am so proud of my result. I can write my name into history now and will work harder and run faster," he said.
creating@donga.com