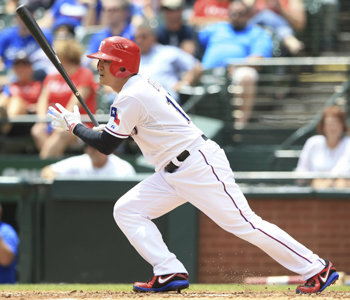 Chang Hoon, who holds record in number of hits (3,085) in the Japanese pro baseball, left the famous saying, "Hitting is like a woman's mind. I can hit well today, but I can't hit well the next day."
Reversely, one also can perform badly in hitting until today but begin to perform well from the next day. This is exactly what is happening to Choo Shin-soo, 33, who plays for the Texas Rangers in the U.S. Major League baseball.
April was the worst month to Choo. He had a batting average of 0.096 (five hits in 52 times at bat), a figure that was even below 0.0100, in end-April. However, Choo is a completely different player in May.
At a home game against the Kansas City Royals at Globe Life Park in Arlington, Texas on Friday, he played the first hitter and right fielder, and posted as many as three hits in four times at bat. He thus has hits in 14 consecutive games in recent weeks, and has posted multi hits (more than two hits per game) in five consecutive games. Having a hit in 14 consecutive games is the longest period in which a player has garnered at least one hit in consecutive games in the American League this season. If he secures a hit in two more consecutive games, he will tie his own record of 16 consecutive games in which he had hits (July 2-22, 2013) for the longest period. He increased his batting average to 0.243 as of Friday, and is close to achieving 0.3000.
His on base plus slugging (OPS), which stood at mere 0.427 for the month in April, jumped in May to 1.127, a record that only the top-rated batters can achieve. Despite Choo's strong batting performance, his team lost 3-6.
uni@donga.com