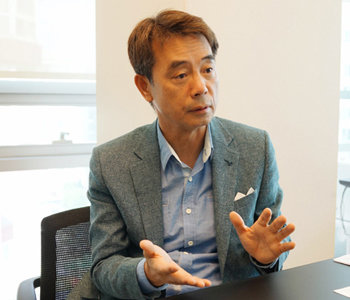 "We will do our best to achieve 1 trillion won (930 million U.S. dollars) in sales in 2020, and 2 trillion won thereafter."
This means that the CEO aims to increase sales of his company that posted less than 200 billion won (185 million dollars) in sales last year by more than five times in five years and 10 times thereafter. Choi Jeong-woo, head of Cable TV VOD, seemed confident. Cable TV VOD is a company that literally provides video on demand to cable TV subscribers.
There are 14 million households subscribing to Cable TV service in Korea, and only about 1 million of them currently watch VOD. If we increase this number to 10 million, sales will naturally increase 10 folds."
On the reporter's question that the figure is simple calculation and his wishful thinking, Choi said, "Given that users of VOD services including cable TV and Internet TV (IPTV) sharply increased from 5.2 percent of the population in 2011 to 19.8 percent last year, it is not a dream that is unachievable." His commitment to VOD business is also reflected in the recent switching of his company's name from "Home Choice" to "Cable TV VOD."
"Pay per view broadcasting should bet its business success on VOD rather than only depending on subscription fee income. As viewing patterns and digital devices have diversified, the advantage of VOD compared with real-time broadcasting is catching on, and chances are high that VOD will transform from a secondary medium after TV or movie theaters into a primary medium in four to five years."
Choi believes that galvanization of VOD service will give a boost to the contents market as well. "Generally, only three out of 10 movies that are newly produced become successful. If the VOD market is widened, some of the unsuccessful seven movies will prove to be successful in the VOD market. The money from this will in turn flow into the contents market."
Recent R-rated movies such as "Obsessed" that were not very successful in box office sales, or movies that were not major blockbusters but can be considered semi blockbusters such as "King's Wrath" by attracting 2 million to 4 million moviegoers each are popular contents in the VOD market.
Choi also predicted that if VOD prices are lowered, the VOD market will also absorb the illegal downloading market through torrent or webhard services as well.
"If terrestrial broadcasters constantly demand a hike of price per view saying that their viewership declines due to VODs, and it would be detrimental to them in the long run. An increase in VOD income will more than offset a drop in advertising income resulting from falling viewership. Rather than raising prices for their shows, they need to supply programming at affordable prices to enable viewers to watch more and thereby expand the market."
suhchoi@donga.com