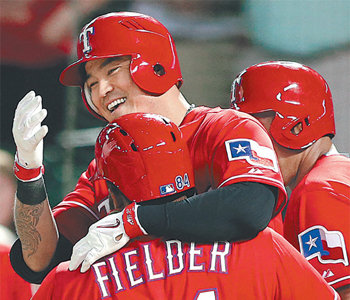 Texas Rangers` Choo Shin-soo, dubbed "Choo Choo Train," hit his second homer of the season, and a double, heralding his revival.
Playing as a starting right fielder and sixth batter at a home game against the Oakland Athletics on Saturday, Choo hit a three-run homer (118 meters) over the right fence off Fernando Abad, a relief pitcher who replaced the starter when Choo's team had two strikeouts and runners on the first and second bases at the bottom of the eighth inning while trailing the visiting team 4-7. As Choo brought the game to square one (7-7), the game continued into playoff of the 10th inning without additional point. Playing the first hitter at bat in the bottom of the 10th inning, Choo hit a double and had the finishing run due to his teammate Rougned Odor's timely hit. Texas won the game 8-7.
Until Saturday, Choo had been agonizing due to his poor batting performance. He had no hit in six consecutive games through April 28, witnessing his batting average fall to 0.096. As a result, he posted the lowest batting average among the 188 players who played in the standard number of times at bat in the Major League, and faced the disgrace of the lowest April batting average ever among the Texas players. Having skipped two games, he hit a double on Friday to break silence, before hitting two extra-base hits.
moonsy1028@gamil.com