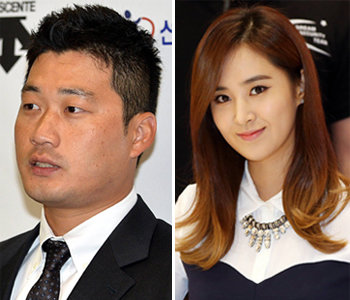 Baseball player Oh Seung-hwan and Yuri, a member of girl idol group "Girls` Generation," is dating each other, the latest sports and celebrity couple to be spotted. Oh`s management agency Sports Intelligence said Monday, "The two are now getting to know with each other with good feelings."
They have been dating since November last year when they first met with their acquaintances. Celebrated athlete Oh Seung-hwan is a finishing pitcher for the Hanshin Tigers of the Japanese professional baseball league. Oh visited Korea on Nov. 3 last year after his team finished second at last year`s Japan baseball league series.
Oh`s management agency said the two cannot meet often due to busy personal schedules but are continuing a good relationship. Oh joined Hanshin`s spring cap in Okinawa after a personal training in Guam, and Yuri is also busy with her schedule.
jaj@donga.com