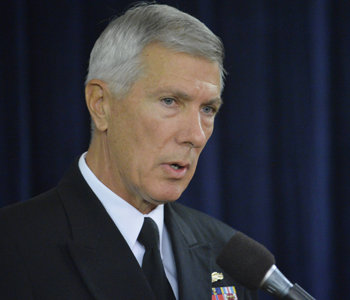 The commander of the U.S. military`s Pacific Command said Thursday (local time) that his country is in discussions about the issue of deploying the Terminal High Altitude Area Defense (THAAD) system to South Korea, rather than Guam, to counter North Korea`s nuclear and missile threats
Adm. Samuel Locklear made the remarks at a U.S. Senate Armed Services Committee hearing, adding, "Our ability in the region to partner with our Japanese allies and our South Korean allies to bring the BMD (ballistic missile defense) capabilities to bear has been productive." The remarks draw attention because they were the first open confirmation by a top U.S. military official that the controversial THAAD deployment is an ongoing issue. The South Korean government had repeatedly claimed that there had been no such discussions at all.
When Republican Senator Deb Fischer asked Gen. Curtis Scaparrotti, commander of the U.S. Forces Korea (USFK) who was also present at the hearing, about how to interpret China`s opposition to the THAAD deployment to South Korea, he said, "I think this is a decision for South Korea, having to do with the defense of their country and from my perspective as a commander there, defense of our troops." He added, "The THAAD system, if employed, is focused on the defense of the peninsula. That`s what it is specialized to do. It doesn`t have any influence beyond that."
ddr@donga.com