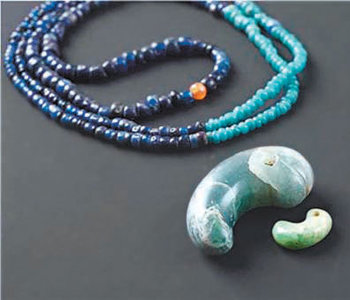 A horse head buried with the dead in an ancient tumulus from the Gaya kingdom is unveiled to the public.
Daegu National Museum houses a special exhibit through June 14 featuring artifacts excavated in ancient tumuli from the Great Gaya kingdom located in Jisan Dong of Goryeong District, which are listed in the tentative list of UNESCO World Heritage. In this special exhibit, 500 major artifacts from tumulus No. 73, 74 and 75 which were recently discovered among the Gaya kingdom tumuli in Jisan Dong. In the Gaya kingdom tumuli, which consists of some 700 tombs, the king of Great Gaya who ruled the ancient confederacy and royal families are buried. Among many small nations of the Gaya confederacy, a gilt-bronze crown was excavated only from the Great Gaya tombs.
Among the artifacts from the tomb No. 73 displayed in the exhibit, eight people and one horse head buried with the dead tomb owner draw attention. Characteristics of tombs from the Great Gaya kingdom is that the number of people buried alive with the dead tomb owner is higher compared to other ancient nations. A long neck pottery with letters of Great King carved, which refers to the king of the Great Gaya, footed bowls and gold earrings will be displayed to the public at this exhibit.
sukim@donga.com