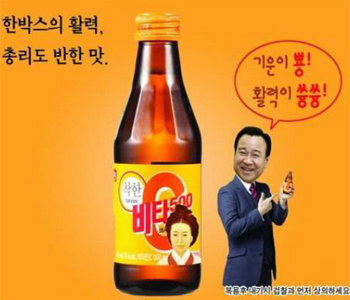 In the latest development of the Sung Wan-jong scandal, suspicions are swirling that the late former Keangnam Enterprises chairman gave Prime Minister Lee Wan-koo a "Vita 500 (vitamin supplement drink)" box containing 30 million won (27,357 U.S. dollars) in cash. In response, parodies making fun of it are sweeping the Internet. On Wednesday, the so-called "Vita 500 parody" fast spread online through social networking services and was the third popular search word on Internet portal Naver.
One parody commercial (photo), which was appeared on a blog, described Prime Minister Lee smiling brightly holding a bottle of Vita 500. Vita 500 commercial has girl group Miss A`s member Suji as model, and this parody had Shin Saimdang, the model for the 50,000 won (45.6 dollars) banknote appear instead. This satirized that the box could have contained 50,000 won (45.6 dollars) bills. The commercial read, "This box will energize you. Even the prime minister fell in love with it," and added on the bottom "Discuss with prosecutors if you want to make bet after drinking it." This parodies what Prime Minister Lee said, "I will sacrifice my life if it turns out that I took the money."
Another photo described a test whether 30 million won (27,357 dollars) can be put into the box in 50,000 won (45.6 dollars) banknotes. According to the photo, if six packs each bundled with 100 notes are put into the box, the box gets half full. Still another parody put in a "Congratulations! You won 30 million won" statement inside the bottle cap. This took the idea of beverage firms putting in lucky number inside the bottle cap.
There was also a photo of Lee sitting next to a table where a Vita 500 bottle is placed, which spread fast through social networking services. Many netizens said Vita 500 was enjoying the ad effects, with postings reading "The biggest beneficiary is Vita 500."
imi@donga.com