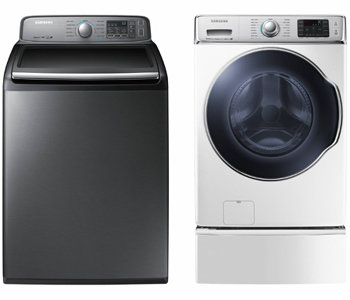 Samsung Electronics' washing machine has topped in four evaluation criteria for washing machines by U.S.-based non-profit organization Consumer Reports. This is the first time for a single electronics brand to top four out of five categories in the evaluation, except for top-load washing machines with agitators, which Korean home appliance makers do not manufacture at all.
According to the Consumer Reports website on Wednesday, Samsung's automatic top load washer with a big capacity (model name: WA48H7400AP) has topped the list of `top-load HE (high efficiency) washers' category. The washing machine got the highest ranting "excellent" in the scale of 1 to 5 for the criteria of "water efficiency" and "Vibration." Samsung's washer got 75 points in total, beating products of competitors such as Whirlpool and Maytag, which got points ranging from 69 to 73. Consumer Reports evaluated the HE washing machine of Samsung as "recommended."
With this achievement, Samsung Electronics have been ranked No.1 and "recommended" by Consumer Reports in the categories of washing machine, front-load washer, electric and gas clothes dryers.
In the category of front-loader washing machine, Samsung was ranked the first with the highest point in January. Out of 51 models evaluated, Samsung's front load washer (WF56H9110CW) with the world's largest capacity is the only one that got the highest rating in all evaluation criteria related to washing performance. Samsung's electric and gas clothes dryers have never yield the top position since 2013 when the domestic electronics manufacturer topped the list for the first time. Both electric (DV56H9100EG) and gas (DV56H9100GG) dryers, which are named as "recommended" on top of the list, received the highest ratings in the criteria of drying performance, capacity and user convenience.
The industry insider said, "As many consumers prefer to buy washing machine and clothes dryer from the same brand, the evaluation result may greatly help Samsung to strengthen its grip over the market."
Samsung is to launch its flagship "Active Wash" washer, which provides a small washboard for pre-washing on top of the washing machine, in the U.S. market next month.
jhk85@donga.com