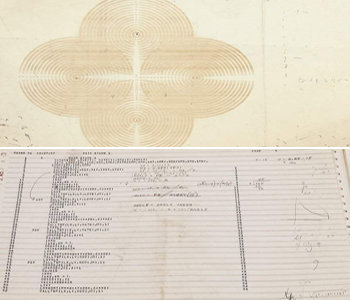 Two new works of Paik Nam-june (1932-2006), a Korean video artist whose death marks 10th anniversary next year, have been discovered. The Smithsonian American Art Museum in Washington said Tuesday that it discovered Paik`s two new works while sorting out the seven truck-loads of material donated by his family, adding that it will release the works in an exhibition to be opened on April 24.
The unfinished 1967 silent opera, titled "Etude 1,″ is a piece with an image that looks like a four-leaf clover. Each circle has concentric inner circles composed of individual letters of the alphabet. Each circle has the letters of the word "God," "Dog," "Love," and "Hate." The museum said that Paik would be the first person who composed a computer opera in world history. "Etude 1″ shows the basis of the artist's works, which reinterpreted the existing art in a new way using media technology.
"Confused Rain" is a tiny snippet of film negative. The image is of seemingly random appearances of individual black letters of the word "confuse" falling like drops of rain against a plain white background.
sohn@donga.com