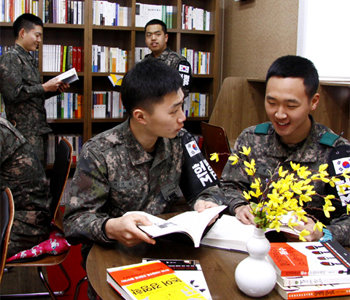 "Change the culture of army with reading."
The First Army Command launched container-style book cafés in January 2015 and received good response from soldiers, the Korean army said on Sunday. The book cafés were introduced to promote reading among soldiers by offering a separate and comfortable place, aiming to help build up good personality and prevent military accidents.
Having initiated the campaign to encourage Korean military enjoys reading since October last year, the First Army Command collected books with the support from government agencies, organizations, publishing companies, etc. The reading places, however, couldn`t be organized for military personnel in remote areas such as general outposts (GOP) or coastal outposts. To tackle this, container-style book cafés, which are fitted for remote areas, have been donated given that they are easy to build and be moved.
"We ask support from outside agencies to receive books and items necessary for reading, instead of care packages such as food," said an officer in the army. "We placed a signboard outside our book café, which shows a serial number and statement of donation purpose, so that military personnel could be thankful for the donation." Donors can select a specific military unit to donate books.
About 33 square meters in size, the book cafés can house as many as 14 people at the same time, and have 5-tier bookshelves that can keep some 1,000 books, tables and chairs along with heating and cooling equipment. Up to date, seven frontline military units in Gangwon Province have been provided with the container book cafés and 13 more will be added within March.
"It is right next to GOP, and I can comfortably enjoy reading with a cup of tea. It really helps me relieve stress," said Private First Class Kwon Ki-tae (22) at the 12th Army division who frequently visits the book café whenever possible.
It is known that the army is considering supplying the container book cafés to other subordinate units. "In order to make this campaign one of the critical elements of military culture, not a one-off event, we will seek further cooperation with like-minded organizations inside and outside to build more container book cafés," said a military officer.
neone@donga.com