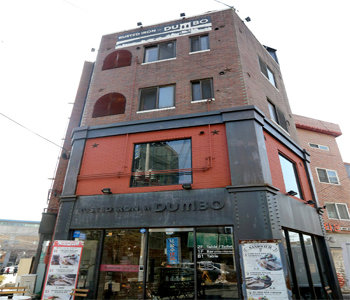 There is a café named "Rusted Iron in Dumbo" at Seongsu-dong in Seoul`s Seongdong district. The owner named the café after "Down Under the Manhattan Bridge Overpass," or Dumbo, a neighborhood in the New York City borough of Brooklyn. New York`s Dumbo is a place that was transformed from old factories and warehouses into a cultural hot spot, just as the café was.
The urban renewal, which is taking place in Seongsu-dong, is a phenomenon that has occurred in major cities around the world. La Halle Freyssinet in Paris, France, which was built on a renovated train garage, is now a venue for renowned fashion brands such as Jean Paul Gaultier, Givenchy and Lanvin. Beijing`s 798 Art Zone, once home to arms factories and warehouses, is now the epicenter of China`s emerging modern art community where a number of art galleries have popped up. The Tate Modern Art Gallery in London, England is housed in an old power station.
During Japan`s colonial rule of Korea, large warehouses were built in the Seongsu-dong area. "There were warehouses where farm produce and timber transported from the Han River banks," said an official at the Seongdong district office in Seoul.
After Seongsu-dong was designated as a semi-industrial zone in the 1960s, the area was transformed into a factory complex, housing steel mills and plating factories in the 1960s, wig factories in the 1970s and sewing ones in the 1980s. Shoe factories and printing companies rushed to the area in the 1990s. However, the manufacturing industry in Seongsu-dong lost competitiveness and began to decline in the 2000s.
Then, floating population in the area started to increase after the Seoul Metropolitan Government created forest parks there in 2005. Expensive apartment complexes were built in the neighborhood. Its land prices soared on rumors of Hyundai Motor Co.`s relocation there and the area`s redevelopment. The development boom withered as all the projects went nowhere amid a slumping property market.
However, things took an unexpected turn, reinvigorating Seongsu-dong, as a number of cafes, designer studios and social companies rushed to the area, attracted by convenient transportation infrastructure and low rents.
Currently, Seongsu-dong residents are mostly concerned about rising rents. "I am worried about the possibility of being pushed out of this place if my landlord demands higher rents," a café owner said. "I hope that Seongsu-dong`s unique cultural ecosystem is maintained."
abc@donga.com