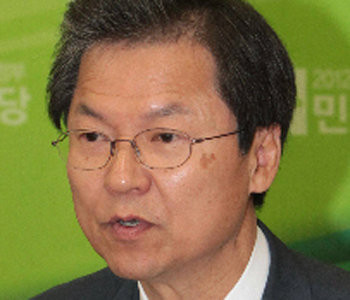 Chun Jung-bae, a key senior member of the main opposition New Politics Alliance for Democracy (NPAD) and former three-term lawmaker, will leave the party and run as an independent candidate for a parliamentary seat in Gwangju in the April 29 by-elections.
In a telephone conversation with the Dong-A Ilbo on Tuesday, Chun said that he would officially announce his departure from the NPAD next Monday.
"It is evident that the current opposition party cannot be elected to power the way it is now," he claimed. "The electorate in Gwangju should give a yellow card to the opposition party, and that is to choose Chun Jung-bae." He ruled out the possibility that he would run on a party slate.
"This is a very disappointing development," Moon Jae-in, the NPAD`s leader, told reporters after visiting a carbon technology institute in Jeonju, North Jeolla Province. "Whoever wants to run (as an opposition candidate) should participate in our party`s primaries for a fair and transparent competition," he said. "If (Chun) has yet to made a final decision, I advise him once again to stay."
Last week, Moon met with Chun and asked him to join the party`s primaries. Another three-term NPAD lawmaker also asked him not to run independently. However, Chun`s Tuesday remarks are a "no" to those requests.
With Chun`s planned departure from the NPAD, all of the three key founding members of the Uri Party, the NPAD`s predecessor, would go separate ways.
Chung Dong-young, another member of the trio, bolted out of the NPAD in January to join a group seeking to found a new center-left party. He tried to persuade Chun to join him, but Chun has decided to run independently in the upcoming by-elections.
The other member, Shin Ki-nam, is the only one staying in the NPAD. He was the head of the party`s committee overseeing the February 8 election of new party leadership. Some observers argue that when there were controversies over proposed changes of the election rule, he made a decision in favor of Moon.
The trio were elected to the National Assembly in 1996, before leading an internal reform movement of the then ruling New Millennium Party in their second term. During the Roh Moo-hyun presidency, they took leading position of the then ruling Uri Party, with Chung and Shin serving as chairmen and Chun as its floor leader.
beh@donga.com