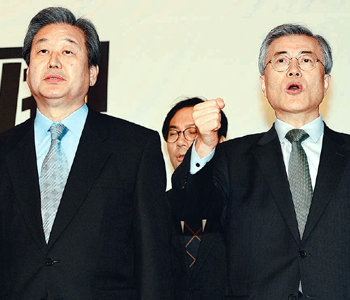 Kim Moo-sung, chairman of the ruling Saenuri Party, criticized Seoul mayor Park Won-soon for calling for a careful approach to the proposed reform of the pension system for government employees. Kim`s criticism seems to be aimed at putting spurs to reform discussions that have made little progress despite the launch of a parliamentary committee and a negotiation organization for a grand compromise.
In a recent interview with a local media outlet, the Seoul mayor said that "pensions are the only hope for low-paying civil servants."
At a meeting of senior party members Thursday morning, the Saenuri chief strongly criticized Park`s remarks, arguing that the mayor`s remarks went against the pension reform and hurt the self-esteem of hose preparing for public employment.
Citing Park`s indication of the need to push back the April deadline set for the outlining of the reform, Kim also noted that the reform drive will lose momentum if that happens, calling the remark "very indiscreet and inappropriate."
Kim Young-woo, the party`s chief spokesman, also lashed at Park. "Mayor Park has virtually put a brake on the pension reform," he told a news briefing, criticizing the mayor for making "populist" remarks" with an eye to his potential bid for presidency in the next presidential election in 2017.
Park immediately hit back. "(The mayor) neither opposed the timing of the pension reform nor expressed his particular opinion (in favor of or against the reform)," said Kim In-chul, the city government`s spokesman.
At a public hearing hosted by the parliamentary committee and the negotiation organization Thursday, Yoon Seok-myeong, a researcher at the state-funded Korea Institute for Health and Social Affairs, argued that even since the 2009 reform, the amounts of pensions paid to public servants retired after 10 or more years of service have not been curtailed. In 2009, a pension reform committee said that pensions would decrease by 6 percent for those who served for 20 years and 8 percent for those with 10 years of service.