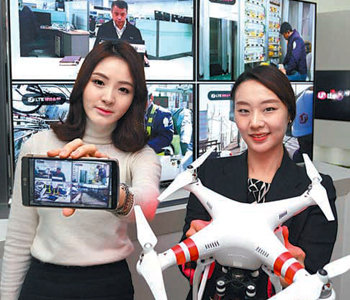 LG Uplus showcased a long-term evolution-based video network control (LTE VNC), which captures disaster scenes and airs them live, at its office in western Seoul on Tuesday. With the new system, the central government, police, and hospitals can share disaster scenes real-time and respond promptly in case of a disaster. Existing video conferencing or calls allowed a limited number of concurrent connections, but the new system enables control centers across the country to have unlimited concurrent access regardless of the types of devices being used.
"The development of LTE VNC enhanced the efficiency of the LTE network and built infrastructure for full-ranged control system," said Lee Chang-woo, head of the network division of LG Uplus. "It will provide practical values such as safety in industries and time and cost savings as well as disaster responses."
LG Uplus will expand the scope of LTE live broadcasting service to the business-to-business (B2B) sector to include disasters, broadcasting and sports, according to the company. LTE live broadcasting service allows users to share videos captured by their LTE smart phone on TV real-time with many other people.