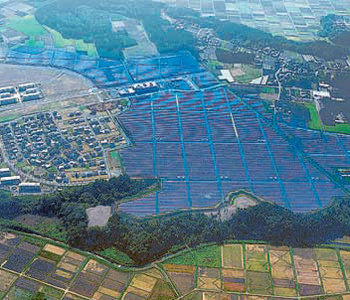 Japan's largest solar photovoltaic power plant based on solar power generation facilities made by LS Industrial Systems, Korean power infrastructure provider, has been constructed in 19 months. Mito Newtown Mega Solar Park, of which construction was started at Mito city of Ibaraki prefecture in July 2013, started operation on Friday, LS IS said on Sunday.
Japan Renewable Energy (JRE), the renewables investment arm of Goldman Sachs, owns this project where LS Industrial Systems has supplied solar power generation devices worth 40 billion won (approx. 36.44 million U.S. dollars) including 156,840 solar cell modules, switchgears and transformers. Mito Newtown Mega Solar Park on 500,000 square meters has the maximum power generation capacity of 40 MW, the biggest capacity among the solar farms currently in operation in Japan.
LS Industrial Systems plans to accelerate advancement into solar power generation market in Japan, taking this project as a momentum. In 2013, Japan's solar industry magazine Pveye ranked the company the third in its survey on solar power module quality. "Although the global solar industry has been stagnant, the company will increase solar power market in Japan based on its specialized solutions such as smart-grid (intelligent electrical grid) total solution," said Jeon Jong-se, the Japanese headquarters president of LS Industrial Systems.