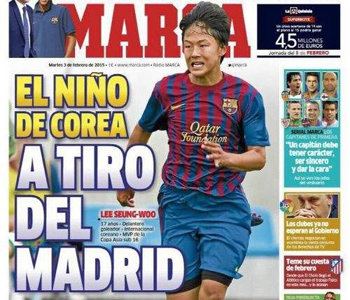 An influential Spanish daily carried a front page report on rumors that Lee Seung-woo (17, Barcelona BBB FC) may move to Real Madrid. Irrespective of whether he actually moves to the team, the very fact that Lee Seung-woo, dubbed "Messi from Korea," is drawing attention from the world's most prestigious pro soccer team is testament to his value.
Marca, a sports daily, reported on Tuesday, "Lee Seung-woo, the Jewel of Barcelona, has received offer from Real Madrid for a transfer. Lee is agonizing over whether to move or not." The newspaper also added, "As Lee was disciplined by the FIFA last year, he cannot participate in matches at present." Reporting on stellar performance of Lee, who spearheaded Korea's rise to the second place by winning the top scorer and MVP awards at the AFC U-16 championship last year, the daily called him the "Pearl of Korea." Prior to reporting by Marca, the Spanish daily "Sport" also reported that "Real Madrid is seeking recruitment of Lee Seung-woo. Chairman Florentino Peréz Rodriguez plans to bring in Lee Seung-woo and deal a blow to Barcelona."
Lee first drew attention from Spanish soccer clubs through exchange matches of youth teams between Korea and Spain in 2010. In the next year, he joined Infantil A (U-14) under Barcelona. He displayed robust performance by scoring the most goals in his team in the 2011-2012 season, and he currently belongs to the Juvenile A team after playing for the Juvenile B team (U-18). The Juvenile A team is the best youth team under Barcelona, and is right under Barcelona B, a minor league team. Lee renewed his five-year contract with Barcelona in 2013. However, as Barcelona was given disciplinary action by the FIFA for violating rules on recruitment of teenage player in that year, Lee is not allowed to play in an official match through January 2016, when he will turn to age 18. Real Madrid is reportedly persuading Lee on the ground that FIFA's disciplinary action is just limited to Barcelona.