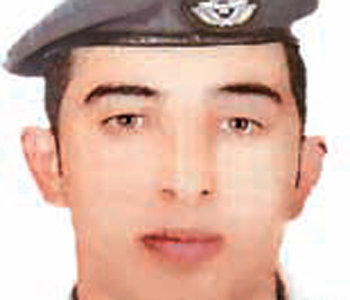 Jordanian air force pilot has emerged as a key in the hostage release negotiations with the Islamic State (IS) jihadist group. Japan is making full-fledged diplomatic efforts to reach a prisoner swap deal between Japanese hostage Kenji Goto and female terrorist Sajida al-Rishawi. Just before a deal is reached, the issue of a Jordanian pilot's release is causing a new twist in the development.
The Jordanian government insists that it will not release al-Rishawi unless Jordanian pilot Lieutenant Mu`ath al-Kaseasbeh held by the IS is freed safely. Amman cannot easily give up the pilot, as Jordanian people are strongly demanding that their government secure the release of the pilot, saying he is more important to them than the Japanese hostage.
Lieutenant Mu`ath al-Kaseasbeh was captured in December when his plane crashed as he was flying an F-16 fighter jet to conduct U.S.-led coalition air strikes against the IS. He was the first non-American soldier to be captured since the onset of the coalition air strikes.
The militant group reportedly demanded that the pilot be swapped for al-Rishawi late last year. At that time, Amman refused negotiations. The situation took a sudden turn, however, as the IS held the Japanese hostage and demanded a swap between him and the female terrorist. The Jordanian public strongly urge Amman to save the lieutenant rather than the Japanese.
The lieutenant's father implored Jordan`s King Abdullah II to save his son. But some speculate that the pilot has already been killed.