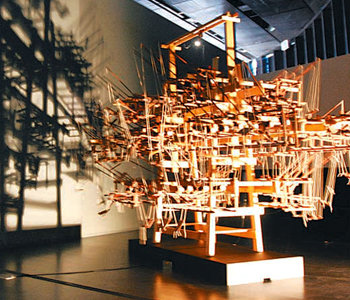 Thursday marks the ninth year of the death of Korean media artist Paik Nam-june. He died of old age in 2006 at his house in Miami. Two exhibition events will start on Thursday in memory of Paik. One is "The TV is the TV," devised to pay respect to his artistic achievements and will be open through June 21. The other exhibition named "2015 Random Access" is prepared by junior artists and will continue until May 31. Both will be held at the Paik Nam-june Art Center in Yongin City, Gyeonggi Province.
Paik had released an art work titled "The Medium is the Medium", which he parodied Canadian culture critic Marshall McLuhan`s famous words "The Medium is the Message." Park Man-woo, director of Paik Nam-june Art Center, said at a seminar held at the center on Wednesday, "`The TV is the TV` was planned to show that TV used by Paik for artistic expression is not just a medium tool but expanded to contain various social environmental meanings to change the life of a human being.
The exhibition will display "Paik-Abe Video Synthesizer," jointly developed by Japanese engineer Shuya Abe and Paik, "Bob Hope," a work that piled up monitors to express the image of a famous figure, and video sculptures including "Charlie Chaplin." Others being displayed will include "Video Chandelier" that used TV as decorations and "Fontainebleau," which reflects the artist`s belief that TV receivers will soon replace frame and canvas.
"2015 Random Access" will be held bi-annually after selecting 10 junior artists who succeed Paik`s experimental artistic spirit. This year`s participants showed off their distinct personalities with installation, video and performance arts as well as audience joining works. The event will be closed on Mondays of every second and fourth week of the month. Please call 031-201-8571 for further information.