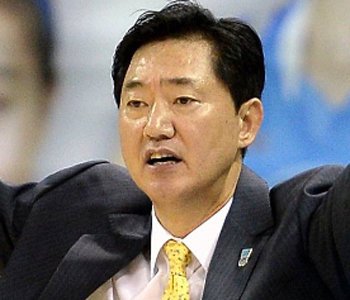 Coach Park Jong-cheon, 55, of Hana KEB Bank in the women's pro basketball league, limps when walking these days. He tries not to be seen limping, but he has difficulties with walking due to enlarged ligament. Park had received surgery four times for his chronic right knee injuries when serving as active pro basketball player in the past. He can even wake up instantly whenever hearing leg injury because he is so wary of it.
Park had a traffic accident near the gymnasium after an away game against Shinhan Bank in Incheon on January 4. A motorist hit one of his legs when he was talking on the phone. It was relatively fortunate for Park because the car was moving slowly and hit his left knee. Park received treatment throughout the resting period for the All Star games.
Coach Park, who thus experienced a serious rite of exorcism for the New Year, realized the importance of "defense" anew. Hana KEB Bank (5 wins and 17 losses), which is ranking fifth overall, ranks third in overall score with 64.5 points on average per game. However, it ranks first in lost points with 70.9 on average among the six teams. In close games, the team often ended up losing due to its defenders' errors. In the game against Samsung Electronics on Wednesday last week, the team had its defenders in disarray at the last minute, to surrender.
"The biggest problem was that when using an abnormal defense tactic to block the opponent team's tall center, the organizing structure of individual players in other positions got in disarray," the coach said. "We staged a defense tactic to prompt rival team players to hurriedly shoot, but our players lost concentration."
With 13 games to go during the regular season, Hana KEB Bank desperately needs to increase wins, as it has a five-game deficit against Samsung, which ranks fourth overall. In order for the team to overtake Samsung, it is important that the former limits the number of lost points to below its average score.
"Be it life or basketball, defense is important. The only winning strategy is defense," Coach Park said. "The key is to keep the number of lost points to around 65 in the remaining games."