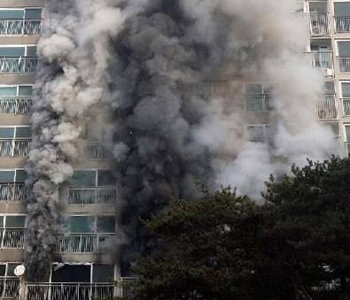 Apartment fires have broken out in succession just three days after a fire in Uijeongbu City, Gyeonggi Province left 130 people dead or injured.
A fire broke out on fourth floor at a 15-story apartment building in Yangju City, Gyeonggi Province at 9:50 a.m. on Tuesday, killing Hwang, 23, and his elder sister, 28. The fire reduced to ashes the interior of the 148.76 square meter home, before being extinguished in an hour. As toxic gas engulfed the entire building, all residents in the apartment building rushed to escape. Staff of the apartment management office visited every household and guided residents to safety, and no additional casualties were reported.
Hwang was discovered naked in his room, the origin of the fire, and a candle suspected as cause of the blaze was found in the room. Police speculate that Hwang, with Grade 3 linguistic disability, set his room on fire to kill himself, considering that all the door and windows of the room were blocked with furniture and others, and that strong smell of gasoline prevailed even after the fire was put out. It has been confirmed that the apartment building lacked sprinklers because the building had been built before the installation of sprinklers was required by law.
Another fire broke out on 10th floor at a 20-story apartment building in Namyangju City, Gyeonggi. Due to thick smoke, a total of 22 residents living on 10th floor or higher failed to escape to the first floor, and instead fled to the rooftop. Four people, who inhaled toxic gas in the evacuation process, were taken to hospital and received treatment. Fire helicopters were deployed to rescue the residents, but as fire fortunately did not spread further, the residents walked down through a staircase after the fire was extinguished. Having secured testimony that "fire erupted when smoke flared from behind a kimchi refrigerator," police are investigating whether electric short was the cause of the fire.