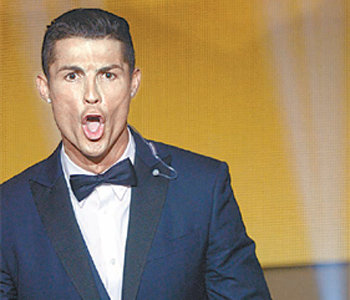 Can players recognize the best of players?
Cristiano Ronaldo (Real Madrid) received the FIFA Balloon d`Or award, equivalent to the MVP prize, at the FIFA 2014 award ceremony held in Zurich, Switzerland on Tuesday (Korea time). Ronaldo has thus acquired the prize for two consecutive years, and the third in his career.
In a vote of voters comprising coaches, captains and reporters from FIFA member countries, Ronaldo garnered an approval rating of 37.66 percent, beating over Lionel Messi (Barcelona, 15.76 percent), and Manuel Neuer (Bayern Munich, 15.72 percent), to rise to the top spot.
According to the outcome of the vote by coaches and captains, which singled out their No. 1 through No. 3 choices as disclosed by FIFA, most captains supported Ronaldo. Of the 182 captains who cast ballots, a whopping 100 picked Ronaldo as top priority. In contrast, only 31 people selected Messi as their most preferred choice. Messi was even humiliatingly trailing behind Neuer as the best choice in the vote by coaches.
Ronaldo received broad support from most countries. Notably, he acquired full support from Middle East countries including Egypt, Iran and Saudi Arabia. Arsenal midfielder Tomas Rosicky, who blasted Ronaldo two years ago by saying that he does not deserve the MVP, also picked the striker as his top priority this time.