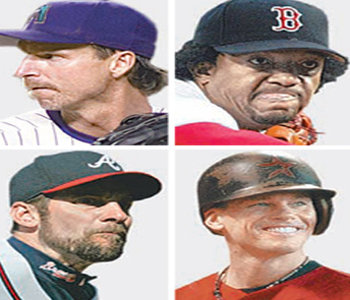 Famed players who were dominating the Major League Baseball from the late 1990s to the early 2000s, when "Korean Express" pitcher Park Chan-ho (42) enjoyed the zenith in his career in the big league, have entered the Hall of Fame en masse.
The Baseball Writers' Association of America (BBWAA) announced four players, namely Randy Johnson, Pedro Martinez, John Smoltz (pitchers), and Craig Biggio (fielder), as the 2015 Hall of Famers on Wednesday. It is the first time in 60 years since four members have been named Hall of Famers in 1955.
For a player to enter the Hall of Fame, he should earn more than 75 percent of approval in a vote of reporters. Johnson, a left-hander who was a former teammate of Kim Byung-heon at Arizona, earned an approval rating of 97.3 percent, the highest in this year. Martinez garnered an approval rating of 91.1 percent, becoming the second man from the Dominican Republic after Juan Marichal to chinch the honor in 1983. Smoltz, the only pitcher in the Major League to achieve 200 wins and 150 saves, had an approval rating of 82.9 percent. Biggio, who recorded 3,060 career hits while playing only with Houston for 20 years, became a Hall of Famer again in his second attempt.
Park Chan-ho, who has recorded the most wins (124 wins) among the pitchers from Asia in the league, will be a Hall of Famer candidate next year, or five years after his retirement (based on the Major league standard). Though Park's chance to become a Hall of Famer is slim, becoming a candidate itself is a great honor.