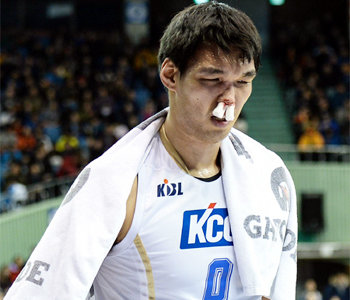 Ha Seung-jin, the tallest professional basket player (7.25 feet) in Korea playing at the KCC Egis, told reporters at the Media Day event on Tuesday, ahead of the season opening, "I was so starved for basketball. I will enjoy this season`s basketball."
While as a public service worker in military service, he had shown high motivation by losing weight by as much as 44 pounds. Ha returned after completing military service this season but went through a series of ordeal. Struggling from injury, he again hurt his nose bone on Friday, the New Year`s day, when the rival player wielded a elbow at him at a game on Friday. Worse yet, Ha flew at a spectator who ridiculed him.
On Saturday, Ha went through a nose surgery and got an IV. He was able to start eating on Monday. KCC general manger Choi Hyeong-gil said, "A surgical staple was placed in the nose and Ha is having a hard time due to pain and since he can`t breathe well. He needs to rest for at least two weeks. We`ll have to watch progress."
Some say Ha wasn`t able to control emotions because he felt being victimized from extreme criticisms by some maniac fans. A person close to Ha said, "Ha`s family is all very tall with both his father and sister over 6.6 feet. Ha was always conscious of the eyes around him since young hood. Some fans made sarcastic remarks on his frequent injury by saying, for example, that he is a human vegetable and that he is faking and not really sick."
Other tall players are known to have gone through similar sorrows. Seo Jang-hoon, 6.8 feet and called "national treasure center," had often expressed frustration, saying, "I hope people don`t look at me as if I were an oddball. I was compared to a track-and-field athlete all the time." Also, 6.8 feet tall center Han Ki-bum said he had tried to shorten himself as much as possible when measuring height.
Meanwhile, the Korea Basketball League held a meeting Tuesday to decide disciplinary measure for Ha for having tussled over with a fan.