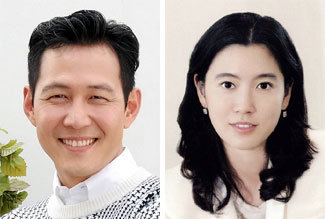 On the first day of 2015, the relationship between a star actor and the eldest daughter of a conglomerate has been reported.
Actor Lee Jung–jae, 42, on Thursday de facto owned up to a romantic relationship with Lim Se-ryeong, 38, the eldest daughter of Daesang Group honorary Chairman Lim Chang-wook. Lee's agency C-JeS Entertainment said in a news release on that day, "It has not been a long time since they have cautiously become more than friends."
Lee's agency released the statement when online entertainment medium Dispatch reported that they are romantically involved, publishing on Thursday morning a photograph of the two on a date. Dispatch said the two often dated at Lee's home in Cheongdam-dong, one of the most affluent areas in southern Seoul.
The two had often been embroiled in rumors that they were dating, or that they would get married, but had denied them, saying, "They are just longtime friends." On the rumor saying that the two have been dating since 2010, the actor`s agency emphasized that they were just friends who had confided in each other up until recently. The management company also said the reports that the two went to the Philippines together in 2010 or reports that Lee had invested in real estate with Lim's help are untrue.
Lim Se-ryeong married Samsung Electronics Vice Chairman Lee Jae-yong in 1998, and divorced him in 2009. Lim, who graduated from the Department of Business Administration of Yonsei University, has been participating in the management of Daesang Group since 2012. She and her former husband have one son and one daughter.
Given Lim is not an entertainer and in particular is a mother of two children, Lee sincerely wishes to prevent Lim and her family from being hurt or from suffering privacy infringement, Lee`s agency said.