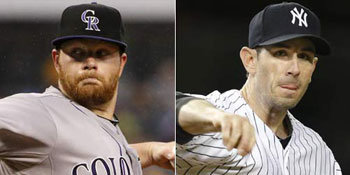 The LA Dodgers signed Tuesday (Korean time) left-hander Brett Anderson to a one-year contract with 10 million U.S. dollars base salary. His signing would give Dodgers a potential starting rotation of the "Big" three pitchers Clayton Kershaw, Zack Greinke and Ryu Hyun-jin, and right hander Brandon McCarthy and left-hander Anderson.
Dodgers had advanced into playoffs for the past two straight years but failed to have the fourth starting pitcher play at the Division Series. This was due to big ball power gap with the big three. McCarthy and Anderson have both fast and breaking ball.
At 6.5 feet tall, McCarthy has made double-digit wins for the first time this year since his debut at Chicago Bulls in 2005. He took the mound in 18 games in Arizona for three wins and 10 losses with average earned runs of 5.01. Then he was traded off to the New York Yankees on July 6 and there he got seven wins and five losses for an average earned run of 2.89.
Anderson had taken the mound for less than 20 games excluding the first year when he played full time in Oakland in 2009. This was due to continued injuries including Tommy John surgery. This year, he pitched in just eight games due to finger and waist injury to record one win, three losses and average earned run of 2.91. His total score amounts to 27 wins, 32 losses and average earned run of 3.73.
The LA Dodgers` starting pitchers for next year will be dominated by young left-handers. Among the five, McCarthy is the eldest as he will turn 31 years old in July next year. Greinke is 30 years old, Ryu 27, and Kershaw and Anderson are both 26. Kershaw, Ryu and Anderson are left-handers.
The San Francisco Giants, the rival of Dodgers, had 58 wins, 44 losses with right-handers and 30 wins and 30 losses with left-handers.