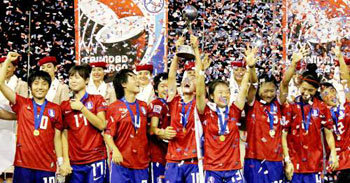 "Oh my God! (South) Korean girls are that good! Wow, they`re really good! Fighting!"
These comments echoed the thoughts of South Koreans Sunday as they celebrated the World Cup win by their under-17 women`s soccer team.
The young Taegeuk Ladies edged Japan in a penalty shootout, 5-4, in the final of the FIFA U-17 Women`s World Cup after playing to a 3-3 tie in regulation in Port of Spain, Trinidad and Tobago.
Though the match began at 7 a.m. Korean Standard Time, South Koreans showed great interest in the final against their archrival Japan. SBS, which aired the game, reported a rating of 16.1 percent.
Fans pumped their fists into the air after South Korea opened the scoring and after the team tied the game twice in the second half. They stood up and went wild after Jang Sel-gi (Chungnam Internet High School) scored the winning kick in the penalty shootout to secure the title.
The win was South Korea`s first in a global soccer tournament sanctioned by FIFA, men or women. The men had made to the semifinals of the 1983 U-20 World Cup in Mexico and the 2002 World Cup co-hosted by South Korea and Japan. The women`s best finish had been third at the U-20 World Cup in Germany this year.
Yeo Min-ji (Haman Daesan High School) established herself as South Korea`s leading female player at this tournament. She outdid compatriot Ji So-yun, who received the Silver Boot and Silver Ball by scoring eight goals in her team`s third-place showing at the U-20 World Cup last month.
Yeo became the first South Korean to earn the Golden Boot (leading scorer) and Golden Ball (top player) in a FIFA-sanctioned tournament with eight goals and three assists in six games. Her team`s title gave Yeo a valuable Triple Crown.
yjongk@donga.com