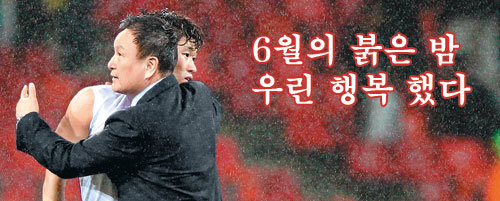 The national soccer team burst into tears despite trying hard not to cry following its 2-1 loss to Uruguay in the second round of the World Cup at Nelson Mandela Stadium in Port Elizabeth, South Africa Saturday.
Coach Huh Jung-moo tried to cheer up his players, who lay on the ground exhausted after the loss, and lift his face toward the rainy sky. The players were seen weeping again at the media corner, which offered reporters access to them, and at the official news conference. The players all had red eyes while returning to their hotel.
Huh used to say he would ensure no regrets for the team after the World Cup, but even he ended up shedding tears, saying, "I feel big regret." After giving up the first goal early in the contest, the Taegeuk Warriors tied the game on a Lee Chung-yong header, but lost on a late goal by Luis Suarez.
"Uruguay scored goals easily while we failed to seize opportunities to score," the coach said in illustrating the regret Koreans felt over the game.
"We had a strong desire to advance to the quarterfinals, but I feel sorry that we didn't. I'm very grateful to the players for doing their best. I'd like to also thank Koreans and the cheering squad Red Devils, who rooted for us throughout the night."
Huh is the first domestic coach to lead the national team to a World Cup win on foreign soil and to achieve a second-round advance.
yjongk@donga.com