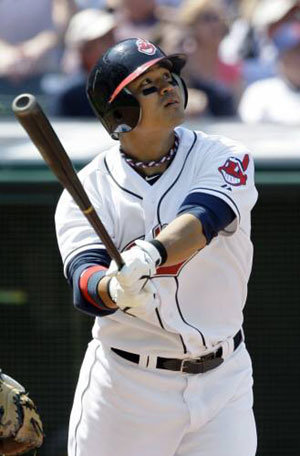 Cleveland Indians outfielder Choo Shin-soo got off to a slow start this season, hitting just .111 with two walks and nine strikeouts in the first five games.
In the four games after that, however, he hit .615 with three home runs, five RBIs, four walks and no strikeouts.
The 28-year-old slugger yesterday hit a game-winning three-run homer in a 3-2 win that broke the Indians' five-game losing streak. At Cleveland's Progressive Field, he hit the home run in the bottom of the eighth inning as the Indians rallied from a 2-0 deficit.
Stepping up to the plate with runners on first and second with no outs, Choo took Matt Harrison's second pitch of 138 kilometers per hour over the fence. Harrison was taken out of the game afterwards after allowing just four hits and no runs through seven innings.
"I didn't try to hit a homer," Choo said. "I just thought I'd hit the ball hard because whatever I made up my mind to do led to a bad result."
The outfielder also had a double in the fourth and finished 2-4 with three RBIs and one run. The game was his fourth consecutive with a hit and third straight with multiple hits. Choo flied out in the first and grounded out in the fifth.
With a .323 average for the season, Choo is leading his team in hitting, on-base and slugging percentage, stolen and total bases, and homers and is tied for the lead in RBIs. He has three homers, five RBIs and three stolen bases.
He is performing better than Grady Sizemore, the face of the Indians. A three-time All-Star since his debut in 2004 and a member of the 30-30 (30 homers and 30 stolen bases) club, Sizemore is tied for the team RBI lead with five but is hitting just .241 with no homers and just one stolen base.
Indians manager Manny Acta said Choo is one of the American League's best players who has everything needed in baseball, adding that his homer was "like magic."
With three homers and three stolen bases in nine games, Choo is off to a good start in his quest to enter the 30-30 club this season.
wing@donga.com