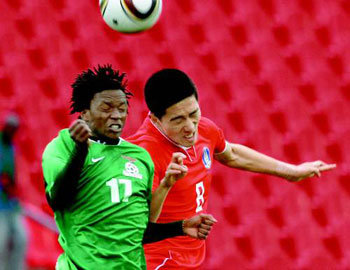 Scene 1. A long pass comes from the opponent's side. Defender Kang Min-soo (Suwon Samsung) originally intends to trap the ball on his chest, but instead heads it spontaneously as the ball flies longer than expected. The ball barely hits his head and falls powerlessly. An opposing striker catches it and unleashes an intimidating shot.
Scene 2. Midfielder Kim Jae-sung (Pohang Steelers) penetrates on the left side and kicks a long cross. Noh Byung-joon (Pohang) and Lee Dong-gook (Jeonbuk Hyundai) are situated near the goal. The ball, however, does not curve and instead skies over the goal post.
Scene 3. An opposing striker launches a powerful long-range shot right in front of the arc. Korean goalie Lee Woon-jae (Suwon Samsung) jumps belatedly as the ball hits the back of the net.
The Korean national team continues to have trouble against African opponents, most recently Zambia, which beat Korea 4-2 in a friendly game Saturday in Johannesburg, South Africa. Korean players have had trouble adapting to Jabulani, the official ball of this year's World Cup.
Ahead of the match, Korean national team coach Huh Jung-moo said, "We will have difficulty due to factors other than the team's physical condition such as high altitude and wet grass."
As expected, Korean players struggled early in the match amid an altitude of 1,750 meters. They also often fell down on the wet grass.
Yet their biggest problem was adapting to Jabulani. Zabulina, a word in the Zulu language (one of several official languages in South Africa) means "congratulations," but Korea was hardly in a celebrative mood.
The highly elastic ball moved on the field at speeds much faster than Korean players were used to.
Jabulani, which is made in the form of a globe by attaching eight pieces without signs of stitches, shook violently given its tendency not to spin much.
Defender Cho Yong-hyung (Jeju United) said in frustration, "The ball moved so haphazardly that I could hardly predict where it would bounce."
Midfielder Kim Jung-woo (Gwangju Sangmu FC) also said, "Since the ball bounced high, I had trouble kicking it properly let alone effectively controlling it."
By contrast, Zambian players handled the ball relatively well. Korea assistant coach Park Tae-ha said, "It was because Zambian players had already played a match against Nigeria using Jabulani."
Other analysts say African players play with the ball better thanks to their unique adaptability. Defender Choi Chul-soon (Jeonbuk Hyundai) said, "When I get physical with African players, they feel like rubber balls," adding, "As a result, they seemed one notch better than us in the capacity to adapt to a new environment."
Five months remain before soccer's grand spectacle opens, so how can Korean players control Jabulani?
KBS soccer commentator Han Joon-hee said, "Defenders must continue to exercise skills for predicting the exact bounding points of passes. It is also essential to exercise skills to stably keep the ball."
For strikers, low, and swift crosses are effective. Players must also practice kicking the ball more accurately rather than spinning it to produce good results.
niceshin@donga.com