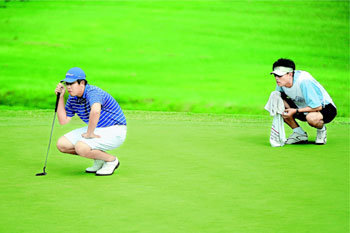 The son of former ping pong players yesterday advanced to the final of the U.S. Amateur Golf Championship in Tulsa, Oklahoma.
An Byeong-hun, 17, beat Bhavik Patel by three shots in the match play semi-final at Southern Hills Country Club (par 70). An's father An Jae-hyung served as caddie to his son.
By advancing to the final, An Byeong-hun has secured a berth in next year's Master's. He will play Ben Martin, 22, in a 36-hole match play in the final round.
An will turn 18 Sept. 17. If he wins the amateur title, he will become the youngest player to do so. Korean New Zealander Danny Lee (Lee Jin-myeong) last year became the youngest to clinch the tournament at 18 years and one month.
In 1991, Kim Sung-yoon was 17 years and three months old when he advanced to the final, but came in second.
An Byeong-hun hugged his father after winning the semifinal, saying, "If I set the record, it will be a glorious achievement for Korea. I never expected to advance to the final, and hence brought only five sets of clothes. I will have to buy new clothes here."
He began his golfing career when he visited an indoor driving range at age seven and went to the U.S. to learn golf in 2005 at age 14. His father resigned as coach of the Korean Air ping pong team when his son came down with anemia in 2007, and went to the U.S. to support him.
An Byeong-hun's Chinese mother Jiao Zhimin is the head of a provider of mobile telecom services in China. Her son, who uses the English name "Ben," is nicknamed "Big Ben" for standing 186 centimeters (6-feet-1) tall and weighing 96 kilograms (212 pounds) and a drive shot exceeding 300 yards.
He will attend the University of California at Berkeley.
kjs0123@donga.com