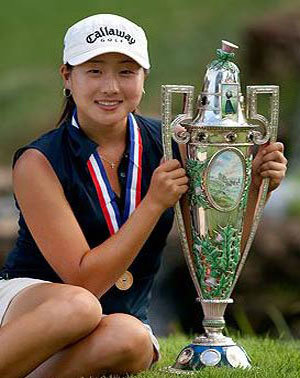 Golfer Jennifer Song yesterday won the U.S. Women's Amateur Championship near St. Louis, becoming the second woman to win two U.S. Golf Association titles in one year.
She beat Jennifer Johnson three-and-one in the 36-hole final at Old Warson Country Club. Coupled with her win at the U.S. Women's Amateur Public Links Championship in June, Song matched the feat by fellow ethnic Korean Pearl Sinn in winning two amateur titles in the same year.
A sophomore-to-be at the University of Southern California, Song has emerged the strongest female amateur this year. She said she felt really excited after winning yesterday after having placed second at five tournaments.
Song said she was encouraged by her father, who serves as her caddy. Through the first 10 holes, Johnson built a four-up lead, but Song won the 11th and 12th holes with birdies and squared the match on the 18th when Johnson three-putted.
Song first played in 1998 at age nine. Back then, her father and Hongik University professor Song Mu-seok was a researcher at the University of Michigan in Ann Arbor. She learned to play golf at junior programs in Ann Arbor and went on to win regional tournaments.
She was named to Korea's national golf squad in 2007 while studying at Daejeon Foreign Language High School after returning to Korea.
Korea's women's golf coach Han Yeon-hee said of Song, "She's good at other sports such as soccer and basketball as well as golf. She's also very smart."
kjs0123@donga.com