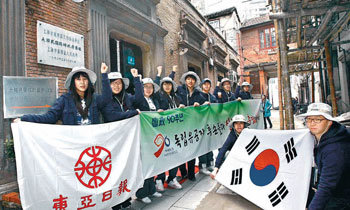 The descendants of Korean pro-independence fighters visited the interim building of the Korean government-in-exile in the old city center of Shanghai yesterday morning.
Choi Min-seok, 23, who is serving alternative military duty, and Yoon Ji-ae, 22 a student of Duksung Women's University in Seoul. The Korean government-in-exile in Shanghai used the building between 1926 and 1932.
Choi and Yoon closely looked at every single item – a chair, desk and others – that had been restored the way and combed through all the writings and pictures of key members of the government-in-exile in the exhibition room on the third floor.
For them, this place helped them to see the patriotism of their grandfathers who sacrificed their lives for Korean independence against Japanese colonial rule.
Choi's late grandfather Choi Ki-ok and Yoon's grandfather Seok Geun-yeong, 89, who were members of the Independence Army of Korea, shuttled between Shanghai and Chongqing to fight for their country's independence.
Shanghai was the venue of the event "From Shanghai to Chongqing with the Descendents of Independence Fighters" co-hosted by Ewha Academy for Advanced Studies, the Korean Patriots and Veterans Affairs Ministry and the Hwajeong Peace Foundation - The Institute 21 for Peace Studies under The Dong-A Ilbo. Eight other descendants of pro-independence fighters also took part.
The Korean government-in-exile building in Shanghai was their first destination. Ewha director Jin Deok-gyu and chair professors Shin Yong-ha, Han Yeong-woo and Park Gyeong-seo also joined the event.
Choi Min-seok said that when he was young, he heard about his grandfather's stories from his grandmother. His grandmother made all her grandsons sit down in a circle and let them read their grandfather's achievements on the day of his memorial service.
"After learning that my grandfather began working for his country's independence in China at age 16, I decided to track his path someday," Choi Min-seok said.
Later, he learned that his grandfather was a member of the Independence Army of Korea in Chongqing, and a liaison officer at the interior ministry.
"I imagined my grandfather while reading the materials about independence leader Yoon Bong-gil," he said. "I was scared to imagine the situation in which he must've lived with a sense of insecurity and tension every day."
Yoon Ji-ae said she did not know of her grandfather's achievements until she entered high school. "I knew he was a member of the independence army, but I didn't know what that meant," she said. "After learning about modern Korean history, I realized that thanks to him, we are here safe and sound."
Seok Geun-yeong was recruited as a student soldier while in Japan, but escaped to China to fight for Korean independence. "Every single word the guide tells us as well as the remains of the Korean government-in-exile building seems special to me," Yoon said.
"I'm looking closely because I might find traces of my grandfather in the city."
gold@donga.com