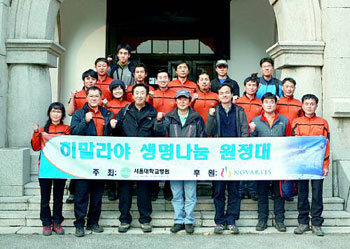 "The human body seems to have infinite potential. I never dared to dream about climbing the steep mountains in the Himalayas. But I'm now confident and ready to go."
Oh Ui-suk (48), who works for the office of South Chungcheong Province, is a member of an organ transplant community that plans to climb Island Peak in the Himalayas. In 1999, she donated half of her liver to save her husband, who fell into a coma due to cirrhosis of the liver.
Ten Korean organ transplant recipients and donors including Oh and her husband will fly to Nepal Thursday to climb Island Peak (6,189 meters).
The expedition was organized by the transplant center of Seoul National University Hospital and sponsored by Novartis Korea. Champion mountain climber Park Young-seok is in charge of training and guidance for the team.
The hospital selected 10 climbers for the expedition among about 40 applicants. The 10 have received intensive training in mountain climbing by scaling various mountains at home, including Mount Bukhan and Mount Seorak. Five expert alpinists along with a hospital medical team will accompany the expedition team.
The hospital said it hopes this expedition team will serve as a chance to increase social awareness of organ donation. Korea's organ donation rate from brain dead patients was just 1.4 out of one million persons as of 2004, far below the levels of other countries such as Spain (32.5 persons) and the United States (22.1).
"I felt a sense of great achievement when climbing the summits in training. This expedition will become a turning point for both of us," Oh said.
kimsk@donga.com