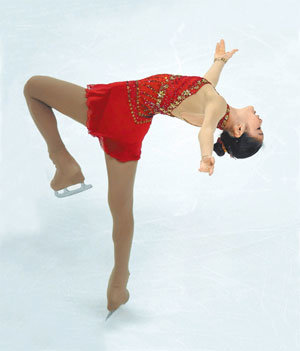 Kim Yu-na, the 18-year-old Korean figure skating star, was the highlight of Skate America, the first event of the 2008-09 ISU Grand Prix of Figure Skating Series.
At the Comcast Center in Everett, Washington, yesterday, spectators were not interested in the number of points Kim got since she had dominated the women's short program a day earlier with 69.5 points, 11.7 points ahead of her Japanese rival Miki Ando (57.8). Attention was thus on the expectation of another spectacular performance by Kim following her previous night's success.
Dressed in magnificent red accentuated by a pattern of golden decorations, Kim skated to the rhythm of "Scheherazade." Media praised her for selecting the right costume for her performance the day before, when she donned a dress in sophisticated black.
Her performance was stellar with a combination of flawless jumps, an eloquent spiral sequence and great expression, earning her 123.95 points and boosting her overall score to 193.45. Runnerup Yukari Nakano of Japan finished a distant second, trailing by 20.92 points.
It was as if the event was made for Kim. In the beginning of the event, Kim prepared for tough competition against strong rivals from the United States and Japan. Kim's coach Brian Orser had predicted that Skate America would be the most challenging among the six events in the Grand Prix series.
As soon as the event began however, American skaters disappointed by trailing Nakano, who came in fourth in the World Junior Figure Skating Championships, despite their home field advantage. Last year's world champion Miki Ando fared no better.
Kim thoroughly dominated Skate America, though chief rival Mao Asada had yet to compete.
The Associated Press said Kim is an early favorite for the 2010 Winter Olympics in Vancouver, describing her performance as "powerful and graceful." International judge Lee Ji-hee said, "Her performance is very stable. She now has a strong sense of control."
Her coach said Kim has all the qualities required of a great figure skater, including a long-limbed physique, ability to present accurate techniques, and outstanding expression.
Kim debuted three years ago in the adult figure skating program, and her techniques, expression and confidence continue to grow every day. Barring injury, she has a bright future ahead of her.
She will return to Toronto today to prepare for the Cup of China, the third Grand Prix event which starts Nov. 6 in Beijing.
kimsk@donga.com