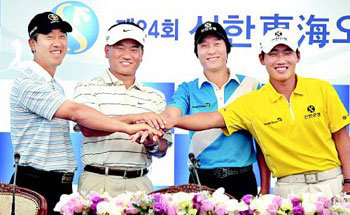 Golf star K.J. Choi, nicknamed "tank" for his powerful shots, returned home yesterday for the first time since winning the SK Telecom Open in April.
He will play in the Shinhan Donghae Open on the Korean tour from Thursday. The prize money is set 700 million won (551,615 U.S. dollars).
Choi, 38, held a news conference with three other players -- Heo Seok-ho, Kim Kyung-tae and Kang Seong-hoon -- at Seoul's Lotte Hotel after arriving at Incheon International Airport in the morning.
As defending champion of the upcoming event, Choi said, "I have prepared for this event over the past year. With many outstanding golfers, I have a tough competition ahead of me. But I will do my best to meet my fans' expectations."
"I have never returned as a defending champion in any tournament. So I want to win an event for the second consecutive year for the first time in my golfing career."
why@donga.com