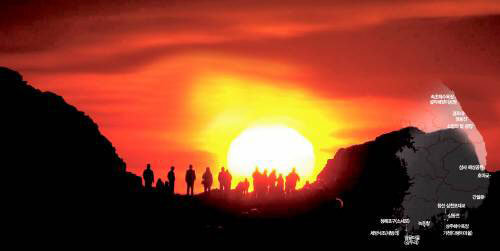 Wando-gun, which became popular earlier this year because of the television drama "Haeshin," will be the location for the "Year-end Haeshin Year-anniversary Commemorative Event" at its filming location in Cheonghaepo-gu on December 31 from 2:00 p.m. to 6:00 p.m.
In between barbequing clams, visitors can catch the sunrise that starts at the southernmost tip of the Korea Hwaheung Port to Cheonhaejin (January 1, 6:30-11:00 a.m.). The fee is 30,000 won (children 20,000. Log onto Soannh.com (http://soannh.com) or call 061-553-8188 for more information.
If you're in the mood for Wando, crossing the Sinji Bridge (Wando-Sinji•1.1km) that opened on December 14 and seeing Sinjido's coastline is a good idea.
The "Sebang Sunrise" (Jindo-gun Sebang-ri) is a special attraction at Jindo-gun, along with its Jindo dogs, known as Hongju Arirang.
Its scenery is idyllic with the Sebang-ri's Dadohae peeking through the dusky islands. The sunset and night view of the Jindo bridge that connects land to Jindo is also unforgettable. The scenery beneath the bridge is a living fossil of general Lee Sun-shin's courageous battles.
With a width of 294 meters, the strait's velocity is the fastest in Asia at 11 knots per hour. A twin bridge of Jindo bridge opened on December 15. For more information, contact the Jindo-gun Department of Culture and Tourism at 061-544-0151.
"Land's end," Haenam-gun's "Land's-End Sunrise" is celebrating its 10th anniversary. The event will run for four days from December 30 to January 1 at Songji-myeon Galduri Land's End Village.
Gyeongnam Coast-
"Asian Naples," Tongyeong City's 2006 Tongyeong Sunrise Festival (www.gnty.net) will commence on December 31 at 6:30 p.m. and last until January 1. Two events, the Visit Tongyeong 2006 commencement and vigil (through January 1, 1:00 a.m. at the cultural square) and the sunrise event (January 1, 6:00-8:00 a.m., Mangilbong Park) will be divided. The sunrise event will be held under the theme of "Lee Sun-shin, Tortoise Ship and Tongyeong," together with a candlelight festival. At the Tongyeong ferry terminal, visitors can see the sunrise from a lighthouse island and, later in the day, hop on a ferry sailing for Maemul Island (5:30-6:10 a.m.).
At the southern seas, three separate sunrise festivals will be held under three distinctive themes. The Sangju Sunrise•Catfish Festival (December 31-January 1) will be held at Sangju Beach and the Mangsan Observatory.
The Samdong-myeon Sunrise Festival (January 1, 6:40 a.m.) will be held near the Yanghwageum Community Center, which is home to a bamboo fishery, the Changseon•Samcheon Bridge, the Haeoreum Art Village, Dokil village, and large fishing ponds.
The Nam-myeon Gacheon Sunrise Festival (January 1, 7:00 a.m.) will be held atop Gacheon Village Hill. Gacheon Village is famous for Daraengi Town, located on the border of Mt. Seolheul and the South coast.
On the peninsula, the New Year's sunrise will touch Ulsan Ganjeolgot first on January 1 at 7:31:25 a.m. This is eight minutes earlier than at Jeongdongjin, and about one minute faster than Pohang's sunrise.
The "Hope Festival" will start on January 1 at 6:30 a.m. and will feature events like cutting a 2006 meter rice cake and performances by singers, ballet troupes, and celebrities with Yoo Yeol as the master of ceremonies. On December 31 at 10:30 p.m., singers Lee Taek-rim and Lee Kwang-jo, among others, will perform at the "Joy Festival," sponsored by Ulsan MBC.
Seung-Ha Cho summer@donga.com