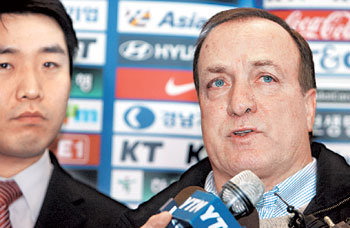 "The first game against Togo will determine the entry into the second round."
National soccer coach Dick Advocaat (58) was all smiles as he arrived at Incheon International Airport sporting a casual appearance in jeans and a black coat.
On December 10, he witnessed the draw for the group staging of the 2006 World Cup Germany and arrived in Korea on December 13. He confidently said, "Korea will be competing with Switzerland for the second position in the group, and there is a great possibility that Korea will advance to the second round."
He said, "The first match against Togo is important. A good game against Togo will well prepare Korea for the second game against France. No team will easily beat the Korean team."
Advocaat said, "I met Gus Hiddink in Germany. Based on the 2002 Korea-Japan World Cup experiences, the biggest changes may take place during January and February according to Hiddink, so this period has to be fully maximized. The six-week training starting in January should give us the full benefits. During the period, domestic players and veteran players in Europe should build up as much experience as possible."
He said, "The veteran players in Europe such as Park Ji-sung, Seol Ki-hyeon, and Lee Young-pyo are not full-time participants. So for the World Cup tournament next year, they need to be completely competitive through tough training." Advocaat expressed his expectations, "In France, each player has a unique capability. They will be fully prepared as they have gone through the pain of being excluded from the 2002 Champions League." He commented, "Switzerland is similar to Korea in that its soccer is based on organizational skills."
Jong-Koo Yang yjongk@donga.com