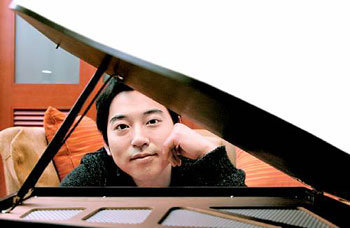 21. Yiruma's New Album Melds Poetry, Music
Yiruma's favorite toy when he was 5 years old was a piano. He pounded the keyboard of the piano sitting next to his sister when she played the piano. While he was studying composition in Britain, he always lived with a piano, saying, "When I play what I compose, that is the happiest moment in my life."
At last, he achieved what he had wanted to do: to be a pianist and composer.
The 27-year old man now wants to become a poet. His fourth album, Poem Music includes 12 pieces of music accompanying his own poems.
The album will be released on November 29, 2005.
"I am aspiring to become a music poet. One of my themes is '4:00 a.m.' I wanted to express sensitive moments like the street in my neighborhood Samcheong-dong at 4:00 a.m. and a snowy dawn in winter."
More analog sensitivity-
I listened to Yiruma's fourth album in his studio near Gyeongbok Palace in Seoul on November 21. "Because I love you," and "The same old story" were wonderful pieces played only with piano. "Photographia" was played with acoustic guitar and cello in addition to piano. They did not bring about overwhelming feelings like 'Kiss the rain' did. But they did have way far more analog sensitivity than his previous music.
"I thought of making a shift to band music or electronic music. But music without a piano sounded empty to me. I want to hold on to what I play now. I feel so good when people recognize that 'this music is Yiruma style.'"
Yiruma made a sensation in the domestic piano music market with his debut album "Love Scene" in 2001 when the market was led by foreign musicians including Yuhki Kuramoto and Andre Gagnon. He was caught in a depression for a while this autumn after he broke up with his girlfriend, actress Kim Ji-woo (22). He shut himself in his home, only concentrating on making his new album. But his album has no sad songs. Rather, it is rather cheerful.
"If I had included music reminiscent of those days, that would have shown that I still had feelings for her. I have already gotten myself together. I want to only think of good things and I will think that it was practice that I had to go through to meet a new person someday."
He will tour 23 cities across the country starting with his first concert at Pohang on November 25. He smiled, saying, "My head is full of thought on concerts." Is it because he always has a piano with him?
bsism@donga.com