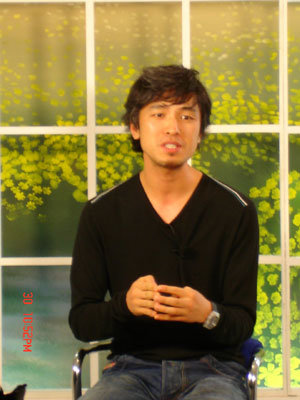 Directors Park Gwang-hyeon, Choi Dong-hoon, and Jeong Yoon-cheol have each written a new chapter of Korean movie history with a single film. Actors Hwang Jung-min, Jeong Jae-yeong, and Yoo Ji-tae have conquered the silver screen as the "Post Big Three" of Korean cinema. Ryu Seong-hee, Kang Jong-ik, Song Seon-dae, and the "Peach Project" played important roles and achieved much behind the glitzy lights as crew members and composers.
These are the "10 Young Leaders" of the Korean cinematic world as named by the cable movie network OCN.
To celebrate its 10th anniversary, OCN will air a three-part documentary titled, "The Power of Korean Movies!: 10 Young Leaders" at 8:30 p.m. on October 21, 22, and 23. The documentary features 10 prominent figures in the Korean movie industry as they talk frankly about their experiences and views on moviemaking. Rather than relying on voiceover narration, the program is oriented around interviews with the "10 young leaders" and the people who know them.
The first part is devoted to three young directors: Park Gwang-hyeon (36) of "Welcome to Dongmakgol," Choi Dong-hoon (34) of "The Big Swindle," and Jeong Yoon-cheol (34) of "Marathon."
Nothing came easy to these three. A national box office draw of eight million people for "Welcome to Dongmakgol" and various "best new director" awards in 2004 for "The Big Swindle" show the remarkable results of their work. But at the time they were making their films, every day was filled with uncertainties. "Financing, casting, everything was a struggle," recalls Park, while Jeong notes, "It was my first feature-length film, and the on-site experience was tougher than running a marathon." Choi describes "incessant rewrites" and "field investigations into the world of crooks." But these young directors did not give up; they held on to their subjects: a warm gaze on humanity for Park, communication between people and the world for Jeong, and a story structure that can being joy to audiences for Choi. The documentary stresses that it is this kind of unflinching dedication that lends strength to Korean cinema.
The second part highlights the three actors, Hwang Jung-min, Jeong Jae-yeong, and Yoo Ji-tae, who are being hailed as the successors to the "Big Three" of Choi Min-sik, Seol Gyeong-gu, and Song Gang-ho. It tells the story of their lives in the movies and their takes on acting.
The third part turns the camera to the people behind the scenes: Kang Jong-ik, a CG artist who greatly contributed to the evolution of visual effects in Korean movies; art director Ryu Seong-hee, famous for her work in "Memories of Murder" and "Old Boy"; cinematography specialist Song Seon-dae, who brought scenes to realistic life by developing his own equipment; and the music-making foursome "Peach Project," who composed such memorable songs as "You Are My Destiny." The segment recounts the efforts and rewards of their behind-the-scenes moviemaking.
kimjy@donga.com