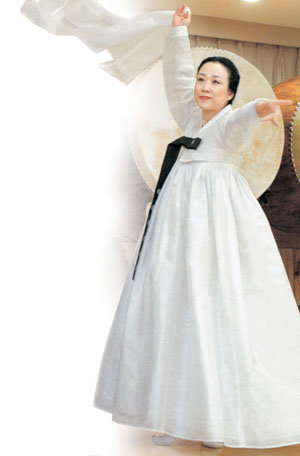 With fast, repeated short tempo notes from a changgo, an hourglass-shaped drum, a dancer in white robes danced with grace. Her dance reminded me of the color of white. Suddenly, in a twinkle of an eye, she changed her rhythm and breathing, shifting her rhythm to the beat of the changgo
Kim Ri-hye, a Korean traditional dancer I met in the basement practice room of Chungmu Art Hall in Jung-gu, Seoul Monday is lucky enough to have Kim Deok-su, the best changgo master in Korea, as her husband. So she doesn't have to play a CD for her practice, because Kim is always there with her to play the changgo for her practice sessions.
"Since he was the one who knows and plays the very essence of rhythmic art, I though he would lead me to the path I had never walked on. At the beginning, it was just a one year plan to learn Korean dance,' said Kim Ri-hye.
The Gap Between Korea and Japan Melts in Dance—
Kim Ri-hye was born in Japan and worked as a magazine reporter. She was totally attracted to a Korean dance she saw one day at random in Japan and finally she deiced to go to Korean. In 1981, she visited Korea and began to learn changgo rhythms from her teacher at the time, Kim Deok-su, and she also started getting lessons from Lee Mae-bang, the legendary Korean traditional dancer. The next year, she married Kim Deok-su and she became the first Korean abroad to master the Salpuri dance, named cultural treasure No. 97 in 1994, and Seung-mu, a monk`s dance, named cultural treasure No. 27 in 1998.
After Kim Ri-hye danced the Salpuri dance and Seung-mu with the Korean traditional percussion quartet led by Kim Deok-su for the past two decades, she finally put her own dance on stage. She will perform the "White Doseong Temple" dance at Hoam Art Hall on November 3 to November 5. It is expected to be particularly interesting because it will be a good chance to see the unique dance style of Kim Ri-hye, who was born and raised in Japan. It will be a solo dance performance in harmony with a song composed by her husband and Kiyohiko Senba, a Japanese traditional percussionist.
"Senba once asked me about what the 'Han' sentiment of Korean art is. So, I told him that in Japanese, 'Han' could mean resentment and hatred, but in Korea its meaning is more close to a feeling, such as sadness, longing, and heartbroken. Then, he proposed me to put Doseong Temple on stage," she said.
"Doseong Temple" is a Japanese legendary tale. It has been often used as a subject of Kabuki and Noh. In the story, a woman, heartbroken by a man who left her, transformed into a snake to get her revenge. Kim Ri-hye interpreted this tale in the Korean way and crafted a dance to let go of the sentiment of "Han" of the female character and to create reconciliation and coexistence.
The Combination of Korean Traditional Rhythms and Japanese "Noh"-
In the "White Doseong Temple" dance, the audience will have a chance to enjoy the beautiful combination made by Kim Deok-su's team (five players) and Senba's team (seven players). This is an experimental attempt to mix the glamorous rhythms of traditional Korean music and the elegant form of Japan's Noh. (The Korean music includes a "sinawi" accompaniment played by a large transverse bamboo flute and a seven-stringed fiddle, music common to the Donghae ogui rites, rhythmic drum music common to Buddhist dances, and Gyeonggi shamanistic rites.)
"Japanese music doesn't have concepts of rhythm or beat. On the other hand, Korean traditional music has diverse rhythms, such as 36 time and even 42, which is a unique tonal system. It's been 25 years since I first started to work with Senba, but I've always felt that we've have a different kind of energy. Preparing this work, we tried to pursue coexistence by making concessions to deal with delicate differences," said Kim Deok-su.
"Japanese dance style is mainly focused on the beauty of form by taking poses from time to time, like taking pictures. On the other hand, Korean dance never stops and keeps running to pull out one's inner self. While Japanese dance can be compared to a straight edge, Korean dance is more round," said Kim Ri-hye.
"White Doseong Temple" will commemorate the 40th anniversary of the normalization of relations between Korea and Japan, and will also be performed in Tokyo, Osaka, Nogoya, and Kitakusu starting next month. Call 02-2232-7952 for more information.
Seung-Hoon Cheon raphy@donga.com