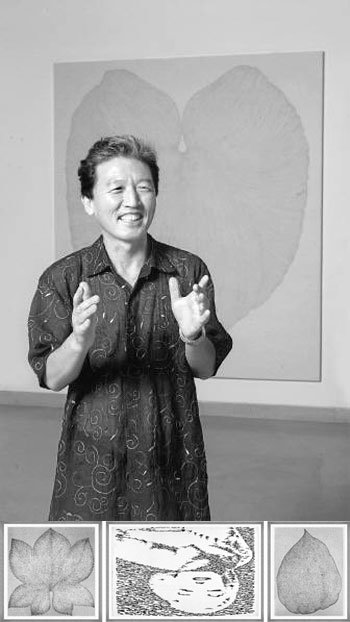 His arduous and stubborn working habits aren't just simply a way to better capture details of objects. For the past 30 years, he has emphasized "what to draw" rather than "how to draw." All of his works are rather philosophical; they ask the question, "Is seeing believing?" This is the namesake of his private exhibit's title, "Images In and Out."
He realistically depicts age-ravaged dressing mirror, windows, people, and landscapes, but chooses to ignore distance and shadows and opts for a surrealist look. The 1993 piece "Untitled," installed at the exhibit entrance, is a consummate example.
An expanse of grass 460 cm wide and 235 cm tall is meticulously drawn on a huge canvass. The grass blades can almost be counted; from far off it looks real. Various buildings, people, lakes, and rivers surround the grassy area, with a self-portrait that seems to encompass it all.
If you stare at the picture for a moment, you can feel the contradictions and absurdity of our daily lives. The message tells us that "reality" may seem as elaborate and precise as those blades of grass, but it is actually full of voids and chaos like the people and landscapes that trample over the grass.
At first glance, his works seem like plain images of mountains and hills, but a step back reveals the faces of Mona Lisa or Marilyn Monroe, sometimes chunks of faint Chinese characters. It is a new movement to dissemble the most precise image of them all – "letters."
The artist engendered a revolution in the world of art in the late 1990s, focusing on materials like "flower" and "fruit." The painstaking slender-brush brings life to the flower drawing, and makes one reach out for the realistic veins and fragrance. The green pumpkins and pink orchids beckon. You experience a bemused miniature self that becomes part of the picture.
Located at the Rodin Gallery, Taepyeongno, Jung-gu, Seoul, 40 pieces of landscapes from the 1980s and images of flowers, fresh eggplants, strawberries, paulownia trees, and morning glories will be on display until October 30. A music concert will be held on October 6 and 22 at 7:00 p.m. 02-2259-7781
Mun-Myung Huh angelhuh@donga.com