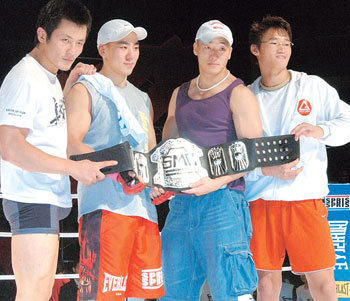 As more Koreans become interested in watching mixed martial arts fighting, there seems to be a potential for a large market. However, there are still challenges to overcome. What are the prospects of mixed martial arts fighting in Korea?
Making Korean Stars–
Currently, most fans are interested in famous foreign athletes. Therefore Korean agencies are making finding Korean athletes a top priority.
The biggest Korean stars at present are Choi Moo-bae (Team Tackle), Denis Kang (Spirit MC), and Park Hyun-sung (Team Pheonix).
Agencies believe that the success of the Korean market depends on new Korean star athletes, and are doing everything they can to find them. Entlian plans to air a 20-part documentary on cable TV about the life and training of Lee Jae-sun, Park Jong-kwon, Choi Young, and Lim Jae-suk. These four men are in the semi-finals of the "SpiritMC Seven Middleweight Grand Prix" which will take place on October 29 at Jangchung Gymnasium. Koma GP will enlist the help of a celebrity manager for the winner of this year's tournament.
Market Size–
Korea's martial arts fighting market is worth billions of won. However many agencies are still recording deficits because they do not have a lot of contracts for broadcasting rights and sponsors, which are the sport's main sources of income. However, Park Kwang-hyun, CEO of Entlian, believes "the market will reach 100 billion won in a couple of years."
The Japanese mixed martial arts market is over 100 times bigger than Korea's. A Pride match that took place between Emelianenko Fedor (Russia) and Mirko "Cro-cop" Filipovic (Croatia) on August 29 sold out completely. The 47,000 tickets ranged from 170,000 won to one million won each. The Japanese mixed martial arts fighting market is estimated to be worth approximately one trillion won.
Challenges and prospects–
Strict rules and safety are essential issues to be dealt with, so that the general population will not merely consider the sport violent. According to Kim Myeong-gu, the sports marketing team leader at IB Sports, there are about 50,000 registered athletes in 500 related organizations. He also estimated that there are about 300,000 mixed martial arts-related people in Korea, unofficially.
Kim said, "Korea has the greatest infrastructure in the world for mixed martial arts fighting."
However, mainstream martial arts such as taekwondo, hapkido, and taekkyun, refrain from participating in mixed martial arts fights. The success of Korean mixed martial arts fighting depends on the interaction between these different types of martial arts.
Won-Hong Lee bluesky@donga.com