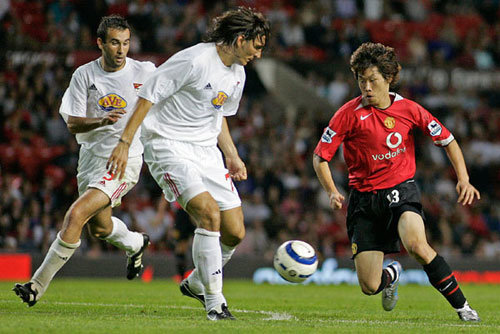 A total of 50,000 Manchester United fans stood up and started chanting for Park Ji-sung when Park appeared on the pitch at the 22-minute point of the last half, and Park played up to their expectations.
On August 10, Park Ji-sung (24, Manchester United) replaced Roy Keane and had an impressive debut match against Debrecen of Hungary in the third qualifying round of UEFA Champions League held at Old Trafford Stadium in Manchester.
Park took the wing forward position that Cristiano Ronaldo used to play and heel-passed a ball nonstop at the edge of the goalmouth arc from Paul Sholes to Ruud Van Nistelrooy just two minutes after he was switched into the game.
Park played energetically throughout and was tackled by a defensive player after penetrating deep into the right-side penalty area at the 37-minute point of the second half. A penalty kick was expected, but the referee didn't whistle for it.
Manchester United was leading the game three-nil at the time thanks to goals from its three top (and three "R") players, Wayne Rooney (7), Nistelrooy (49), and Ronaldo (63).
Coach Alex Ferguson didn't spare his praise for Park, saying, "Park's penetration and aggressive movement was great."
Jae-Yun Jung jaeyuna@donga.com