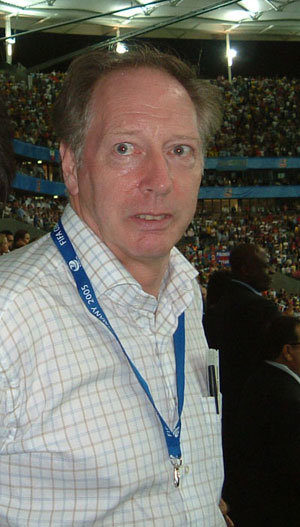 "I will organize a Korean team different from that of the 2002 World Cup. In 2002, the team's tactics were based upon counterattacking while playing defensively. However, such tactics do not work any longer. Our play must be more offensive," said the coach of the Korean national football team, Johannes Bonfrere (59). A year after being named head coach of the Korean National Team last year on June 17, Dong-A Ilbo was able to meet him on June 30 at the Waldstadion in Frankfurt, Germany, where the 2005 Confederations Cup final between Brazil and Argentina was held.
Coach Bonfrere pointed out as the national team's first priority the need to increase stamina. He said, "Players in the European big leagues train twice almost everyday in the morning and the afternoon, even on days without a match. By contrast, Korean players tend to tire easily by undergoing such training." He emphasized, "If we are to succeed in the World Cup event next year, strong teamwork based on strong stamina is essential."
Club Football Teams Must Cooperate in Pre-World Cup Training-
On criticism pointed at the shaky defense and plain offensive tactics, Bonfrere responded, "When coach Guus Hiddink led the national team, he could summon players for over a year and a half with the consent of each of the K-League teams. Such criticism is not fair given the current circumstances where only three days of team practice is allowed before A-matches." He added, "I hope that club teams give more time for the national team's training sessions, and I am still in search for a good defender."
"I Hope Park Joo-young Experiences Fierce Football at Munchen"-
"With the World Cup event in Germany coming up soon, it is very good news that Bayern Munchen, one of Germany's top football clubs, expressed interest in Park Joo-young, our national team's striker, " said Bonfrere, adding, "I hope Park will be able to gain more stamina to fight through fierce opposition by playing in the German Bundesliga."
On modern football trends shown in the Confederations Cup, or the "pre-World Cup," he said, "After looking at the Brazilian team, with players of better personal skills and tricks, defeat the more teamwork-oriented Argentinean side, I am on a search for a way to confront teams with good personal skills at the World Cup."
Park Ji-sung Capable of Success in England-
Regarding Park Ji-sung, who joined Manchester United of the English Premier League, he noted, "The English Premier League is much more fast-paced and fierce compared to Park's former league in the Netherlands. As the name suggests, it is a place where 'premier' players are gathered, and his chances in the league will depend on how fast his position as starter is established." He forecast, "Park's insight of the game, stamina, and creativity will bring him definite success in the Premier League."
Bonfrere said he will "return to Korea on July 2 and prepare for the East Asian Football Championships starting on July 31," while, adding with a slight wink, "Korean food, including dog meat, suits me perfectly, just as my life in Korea has no inconveniences. Give me some time to show you the love I have for Korea and football."
Jae-Yun Jung jaeyuna@donga.com