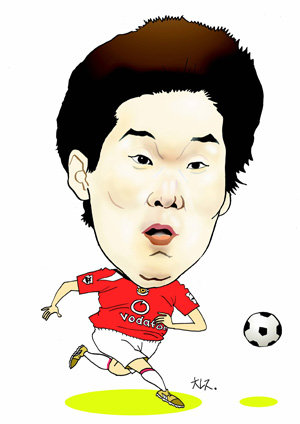 On June 23, when Park Ji-sung arrived in Manchester, British local media and fans welcomed him with keen attention.
The official homepage of Manchester United (www.manutd.com) put on its headlines an article on Park's joining the team titled "Park Ji-sung: I'll Prove My Worth."
Manchester fans, who are known to be the most passionate ones around the world, showed keen interest in the first Korean Premier Leaguer, creating a "Park Ji-sung forum."
A Manchester United official said, "British fans still remain silent as they know little about Park Ji-sung," but most Manchester fans are enthusiastically welcoming him.
A fan using the ID "Relly" said he was "really happy that Park Ji-sung joined [Manchester United], as he is a player with enough talent and incredible momentum." Another fan named "Carlo Rosario" forecast: "Park Ji-sung will probably make a huge success in the Premier League thanks to his sincere mindset and attitude."
Many fans are also divided in their opinions over Park's position.
"Joe ching" argued that "Cristiano Ronaldo should be placed on the left side and Park Ji-sung on the right. Plus, the post of Ruud van Nistelrooy, the forward, should be creatively changed so that he could play better." Meanwhile, "Condor" analyzed that "Park Ji-sung can play in left, right and center midfield. Anywhere, Park will be a great help for the team to operate the match in a creative manner."
Regarding the discussions, Whiteman, a journalist for the official magazine of the Manchester United team, anticipated, "Park Ji-sung will have to compete for his position with Paul Scholes, rather than with Roy Keane," adding that "[his] success or failure will be totally up to how well Park shows his talents."
Park Ji-sung will come back to Korea on June 26 after taking a medical test. Starting on July 4, he will participate in Manchester United's pre-season training program.
Jae-Yun Jung jaeyuna@donga.com