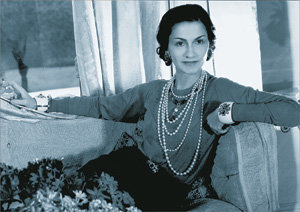 At a time when Marilyn Monroe was the shining sun of Hollywood, she was asked, "What do you wear to bed?" She replied, "Chanel No. 5." Gabrielle Chanel (1883-1971), who launched this unique perfume loved by Monroe and countless other women wore "Chanel No. 1." She made this perfume only for her own use. She felt pride in her own character, and often said, "I am the style." She had parodied France's Louis XIV; the Sun King's "L`état, c`est moi." In fact, Chanel was the empress of the 20th Century fashion world.
Nevertheless, the roots of the glamorous empress were humble. Born in a little country village in France, Saumur, and daughter of a poor housewife and an itinerant market trader, she was brought up in an expense-free school run by nuns just like an orphan and worked by mending clothes and as a café singer. As you can see, Chanel's early life was quite shabby.
Despite the hardships, she became a designer and became known as Coco, which was derived from a song she sang at the café, "Who's seen Coco in the Trocadero." Chanel's "two Cs" logo, or the abbreviation of Coco Chanel, became the guaranteeing mark of the world's best fashion. This book, written by a French freelancer, is a biography about an ambitious woman's dreams, extravagant social life, fateful love stories and tragic end. The story is dramatic, and the image-depicting sentences are passionate and sensible.
At the age of 25, while singing at the café, Chanel became the mistress of a rich Frenchman, Etienne Balsan. With his funding, she opened a hat store in Paris and with the help of her first true lover, the rich Englishman Arthur "Boy" Capel, she began to expand into the clothing business.
Chanel offered her boutique as an open space for the high society women living in fear, in the midst of World War I. She also hired her staff from aristocracy and the highest class. Chanel cleverly used the harmonious blending of individuality with the spirit of the times, simple yet practical fashion, perfectionist sewing, and implicitly stimulated women's vanity.
"Chanel No. 5" was created by Ernest Beaux, son of a Russian chemist. Grand Duke Dmitri Pavlovich, a Russian aristocrat in exile and the 11-year junior lover of 40 year old Chanel, introduced Beaux to her. Pavlovich was part of a plan to murder Rasputin who betrayed the Romanov dynasty. Chanel provided maternal love for the gloomy duke, and the duke in turn introduced perfume maker Beaux to Chanel as a "gift," at the time when their love was coming to an end.
She had an eye for true artists, generosity to spend vast amounts of money for them, and enough extravaganzas to fearlessly commit her life to a new lover.
Her list of friends: Picasso, Dali, Stravinsky, Jean Cocteau, Greta Garbo, Marlene Dietrich to name some, is just extravagant. Chanel also became a long time lover of Britain's richest man, Duke of Westminster, who owned 18 Rolls Royces. After the end of World War II, she was nearly punished for having a German lover during the war, but everything was solved when her "British friend," Churchill, made a phone call.
Another feature of Chanel is her love for fame, which made her color her past beautifully, and make well-known her cultural conversations. Maybe the sumptuous style of this book is due significantly to the influence of Chanel's character. At the time of her death in her Paris Ritz Hotel room where she lived alone, she is known to have told her maid, "My darling, it is time to die."
Original Title: "Coco Chanel (1999)"
Ki-Tae Kwon kkt@donga.com