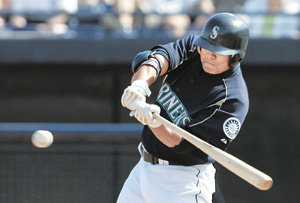 The moment he had so long and earnestly desired came in an instant.
Choo Shin-soo, a 23-year-old right fielder, plays for the Tacoma Rainiers, the Seattle Mariners' AAA team.
On the morning of April 21, two guests unexpectedly visited his apartment in Tacoma, a city near Seattle: the manager and trainer of the Tacoma Rainiers. Opening the door, Choo Shin-soo felt something unlucky might happen.
"I was nervous whether I might be kicked out or traded," says Choo.
His guess, however, was far off the mark. The news was that, instead of infielder Scott Spiezio, who was placed on the 15-day disabled list, he would be promoted to the big leagues. That was the moment when Cho Shin-soo's dream came true.
Choo Shin-soo, who has remained in the Minor League for about five years since his U.S. debut in 2000, now joins the Major League wearing the number 54. He is the eleventh Korean to become a major leaguer, and the second Korean hitter in the Major League following Choi Hee-seop (LA Dodgers).
"During the exhibition match, Choo Shin-soo showed outstanding power and excellent outfielding capability," praises Seattle Mariners manager Mike Hargrove. Choo Shin-soo had drawn huge attention, recording a .350 hitting average, one homerun and four RBIs, but was sent to the minor league when he was removed from the starting lineup. At that time, Mike Hargrove expressed his regrets by saying, "[Choo Shin-soo] is a player who can even achieve 30-30 status, but even so I could not remove Ichiro from the lineup."
During the current minor league season, Choo Shin-soo has gradually enhanced his shot at an early promotion, making an excellent play with a .304 average, one homerun, and seven RBIs in seven matches.
On his "dream stage," Choo Shin-soo will have to engage in fierce competition for survival. The outfield—firmly secured by left fielder Randy Winn (.308), center fielder Jeremy Reed (.250) and right fielder Suzuki Ichiro (.383)—shows little room for Choo to make his way into. There is even a possibility that he might be sent back to the minors once Scott Spiezio recovers from his injuries.
Nevertheless, Choo Shin-soo —whose steady hitting is a big advantage— is considered one of the most prominent next-generation players. In a recent Seattle Times ranking of the "Promising Players Who Will Shoulder the Future of the Seattle Mariners," Choo ranked third among all the players on the list and even took the top among fielders. This is why we are looking forward to Choo Shin-soo's new challenge.
Jong-Seok Kim kjs0123@donga.com