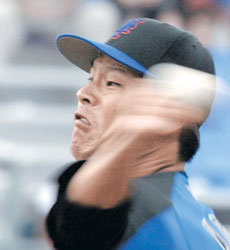 April 5 was the date of the season opener between the New York Mets and the Cincinnati Reds at Cincinnati's Great American Ball Park. In the eighth inning, with the Mets leading 6-4, Koo Dae-sung (36, photo) took the mound.
His face-off with Cincinnati's first batter, D`Angelo Jimenez, was a tug-of-war that lasted nine pitches. He finally struck Jimenez out with a 124km forkball that fell just inside of the strike zone. Next up was Ken Griffey, Jr. (35). Since his debut in 1989, this left-handed slugger has amassed 501 home runs and a lifetime BA of .292, and made the All Star team 12 times.
Koo threw a curveball for a strike on his first pitch, and a 138km fastball on the inside for his second. Griffey, standing 192cm tall at 100kg, swung his bat through empty air.
Pitch no. 3 was a 140km fastball on the inside. Griffey, Jr. never even got to swing his bat. Three pitches for three strikes. The 42,794 fans filling the stands suddenly fell silent.
In his long-dreamt-of debut performance in the major leagues, Koo demonstrated tremendous pitching and recorded his first hold. Taking the mound after starter Pedro Martinez and relief pitcher Manny Aybar, Koo gave the Mets a shut-out inning that included two strikeouts.
After retiring both Jimenez and Griffey, Jr. with strikeouts, Koo got left-hander Sean Casey to ground out on the slider he threw for his fourth pitch. In a bold move, Koo threw 11 pitches out of a total of 15 for strikes. His fastest pitch clocked in at 142km.
Unfortunately, the Reds rallied in the ninth inning to deal the Mets a 6-7 loss, thanks to the Mets' closer Braden Looper giving up a two-run home run to Adam Dunn that tied the score, followed by a walk-off solo home run to Joe Randa.
When asked about his debut experience, Koo confessed, "I didn't expect them to put me on the mound at such a critical juncture. I was disoriented by the huge crowd of spectators, and felt quite nervous facing Griffey, Jr."
The Mets' manager Willie Randolph, who saw his debut win slip through his fingers because of Looper's botched save, expressed his high estimation of Koo Dae-sung by remarking that retiring such a famous hitter as Griffey, Jr. on three straight strikes was a mark of great pitching.
Sung-Kyu Kim kimsk@donga.com